Real Life Examples

If you've taken my 7-Question Define Your Brand Style Quiz and you REALLY resonated with your results, you're a great candidate to become a Brand Style Contributor. The Brand Style Quiz was designed to help creative entrepreneurs and small business owners identify their signature style. Five potential brand styles include: Bright and Inviting, Natural and Relatable, Enchanting and Magnetic, Polished and Contemporary, and Soft and Feminine.
I designed the Define Brand Style Quiz with real people in mind. If you're curious to learn more about that process, I included a full length description in THIS blog article. I considered the preferences of my "real life examples" to get clarity about probable results, This collaboration is such an important part of the way this quiz is designed. I'd love if you come alongside me to become a Brand Style Contributor.

What to Expect

Follow the steps below to become a contributor. Once complete, you'll receive an email thanking you for sharing your results with a link to a brief questionnaire.
After your submission is complete your brand style result, your photo, a brief bio, and your social media links(*) will be featured in my "real life examples" Brand Style directory! If pursued further, I may ask if I can share your Brand Style profile in the associated Brand Style PDF opt-in's, blog posts, or Instagram stories.
We'll email you no more than twice a year with a totally optional and notably brief survey about your brand style results. If you wish, you can opt out at any time!

Become a Contributor in 2 Easy Steps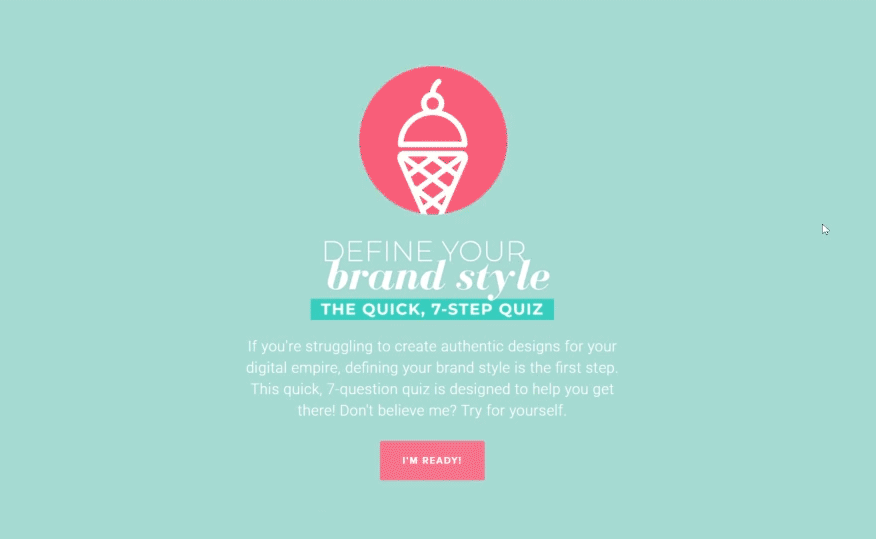 Take the Quiz: If you're ready to become a Kiss Creative Style Contributor, it's easy! Click the link to my Brand Style Quiz HERE. This quiz is designed to help you determine your signature brand style. After you've taken a few short minutes to move through the 7-Step Quiz, follow the prompt to subscribe. See my example above! Opting-in is the easiest way to submit your results. If you don't wish to stay on my list indefinitely, fear not. You can unsubscribe or opt out of future emails at any time — no hard feelings!
Forward your Result Email: Send your results email my way! Just head to your email, look for Subject Line: "Your quiz results are here! x" Once opened, click forward and send the email back to me at allie@kisscreative.co. That's it! You should receive an email with a brief Q&A invitation roughly 48 hours later.
Bonus: Free Starbucks on Me! Enter your results for a chance to receive a Starbucks gift card on me!

This perk is available for a limited time only, so take me up on this offer while you still can.