Before Kiss Creative came into the virtual world, I took to Instagram to document my personal health and fitness journey! That's where I met Meme. She is the beauty, brains, and brawn behind Quite Fitt. Her enthusiasm was apparent the moment we clicked – in fact, it was contagious! I live for working with ambitious women, and I was beyond thrilled for the opportunity to help Meme create the brand identity she'd been dreaming of.
Meme is a NASM-certified personal trainer living and working in New York City. We drew a lot of inspiration from her experience as an uptown girl hailing from the West Coast in California. This is where a muscle-beach playground meets the grind of Manhattan city living.
Outfit | Pink | Marble | Sunset | Palms | Drive | Ice Cream | City | Pineapples
Meme pulled these inspirations into her Pinterest mood board like a pro! This brand mood board is carefully curated to reflect the various influences that shaped Meme in her own journey. She has a background in fashion and a love for empowering other women to pursue what makes them happy. She loves hitting the gym hard or going for a good run with a girlfriend in the morning. She also loves letting her hair down to dance the night away for the pure joy of hearing the music and feeling the beat. Meme inspires her clients to embrace the same balance, creating a well-rounded approach to health and fitness in the way she advocates for self-love and inner happiness. It was really important that I made every effort to capture those qualities in the Quite Fitt identity design.

The Logo Concepts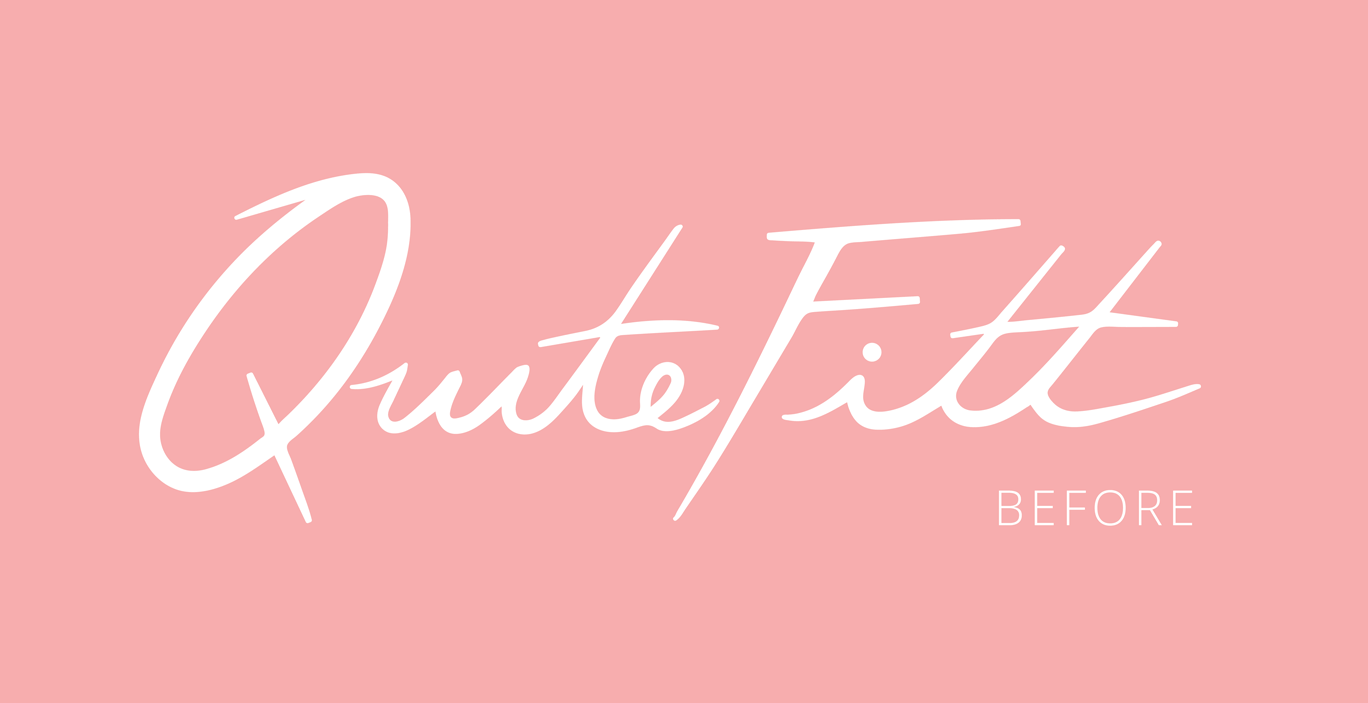 Meme shared her vision for a logo with retro-type inspiration. She could not have chosen a better influence to communicate the feelings I'd hoped to capture! After browsing potential font options, I knew that even the best contenders did quite not capture the Quite Fitt aesthetic. I decided to put pencil to paper, creating a completely unique hand-rendered logo for Meme and her brand. After two revisions, we nailed it. My first draft and the final version are featured in the GIF above.
We also selected some bold sans-serif typefaces that are perfect for the millennial audience Meme loves to work with. My first few drafts included free weight illustrations. Meme made it clear that she wanted to approach her brand from a different perspective. She is a personal trainer with strong fitness aspirations, but Quite Fitt is so much more than that. It was important to build a brand that approaches the fitness community in a way that is well-rounded and flexible in and outside of the gym. Meme inspired me in her dedication. She had given so much thought to her vision. She has such a strong grasp on her dreams. Her approach was thoughtful and controlled, and her love for the lifestyle and the journey that is integral to her brand is true and unmistaken. I absolutely loved working with Quite Fitt.

The Final Brand Identity