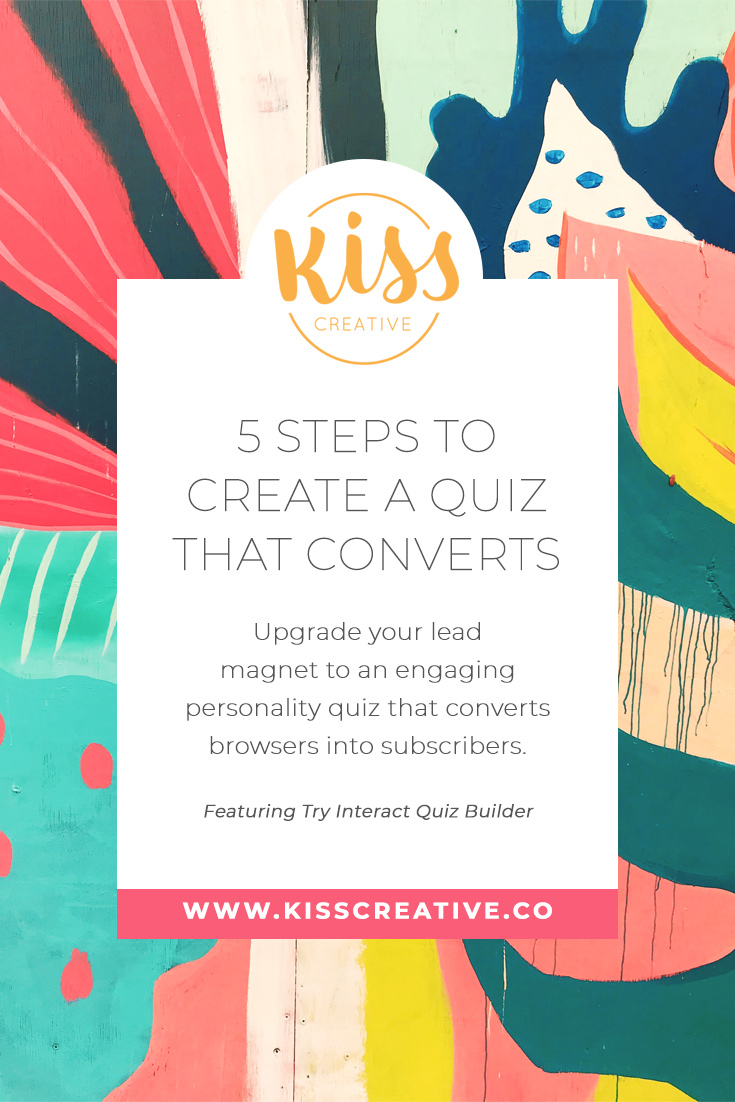 I'm a graphic designer and virtual business owner. Naturally, I've created lead generation magnets (or mailing list opt-in's) in almost every form. That list includes everything from guides to checklists. If you don't know what a lead magnet is, it's simply an offering you make in exchange for someone's email address (usually a discount or a digital download). After taking a critical look at my own lead magnet, I knew I was falling short of addressing a glaring concern my audience has. I promise to create visuals that capture who you are. But, before now, I hadn't created an outlet to prove it.
Like, know, and trust are the three marketing principles I can't afford to look past. I knew it was time to grow my list differently! So, I deleted my lead magnet and I went back to the drawing board. If you're a perfectionist, I know you understand. In it's place, I decided to create a personality quiz! It's fun, it's straight-forward, and it addresses one of the main insecurities my audience has: "What if I don't like my brand?" Building a quiz was the ideal solution, but I had no idea how to get started.
I took to Pinterest searches and podcast episodes. My research helped, but all of my favorite examples offered no credit for construction. So, I embraced my Kim K investigation skills and I inspected a few of my favorite quizzes to see if I could gather any clues in terms of how they were made. As it turned out, every single quiz was created with Interact. When I clicked onto the website, I knew I found what I was looking for! Its a free quiz builder that's easy to customize and easy to embed.
If you're ready to build your own quiz, I've done the research so you don't have to! Keep reading for a step-by-step peak into my process.

How to Get Started
Writing great questions and accurate results is arguably the most challenging aspect to creating personality quizzes! You may be tempted to draft your ideas in advance. I'd recommend you save yourself a little extra leg work and start with one of Interact's pre-made templates. You'll likely change every shred of copy, but it'll provide a solid starting point for direction and inspiration. This step-by-step tutorial starts there!
1. Sign up and Select Your Template
Take a look at the Gif above for a step-by-step visual on choosing a template with try interact
Sign up a free account at TryInteract.com. Login in to your dashboard. Click "Create your free quiz." Start with a template. Interact will prompt you to indicate your industry. I chose blogging, business, and marketing!
Next, you'll be prompted to select your quiz type. Are you going to create an assessment, a personality quiz, or a scored quiz? Today, we're focusing on personality quizzes. Interact will use your selections to generate a collection of templates available to help you get started.
My quiz is a brand style quiz, so I chose to start with the template called: "What's your Brand Voice Style?" It addressed the exact topic I chose to cover! That template gave me some initial direction and a great example to play with.

2. Draft Your Questions and Your Results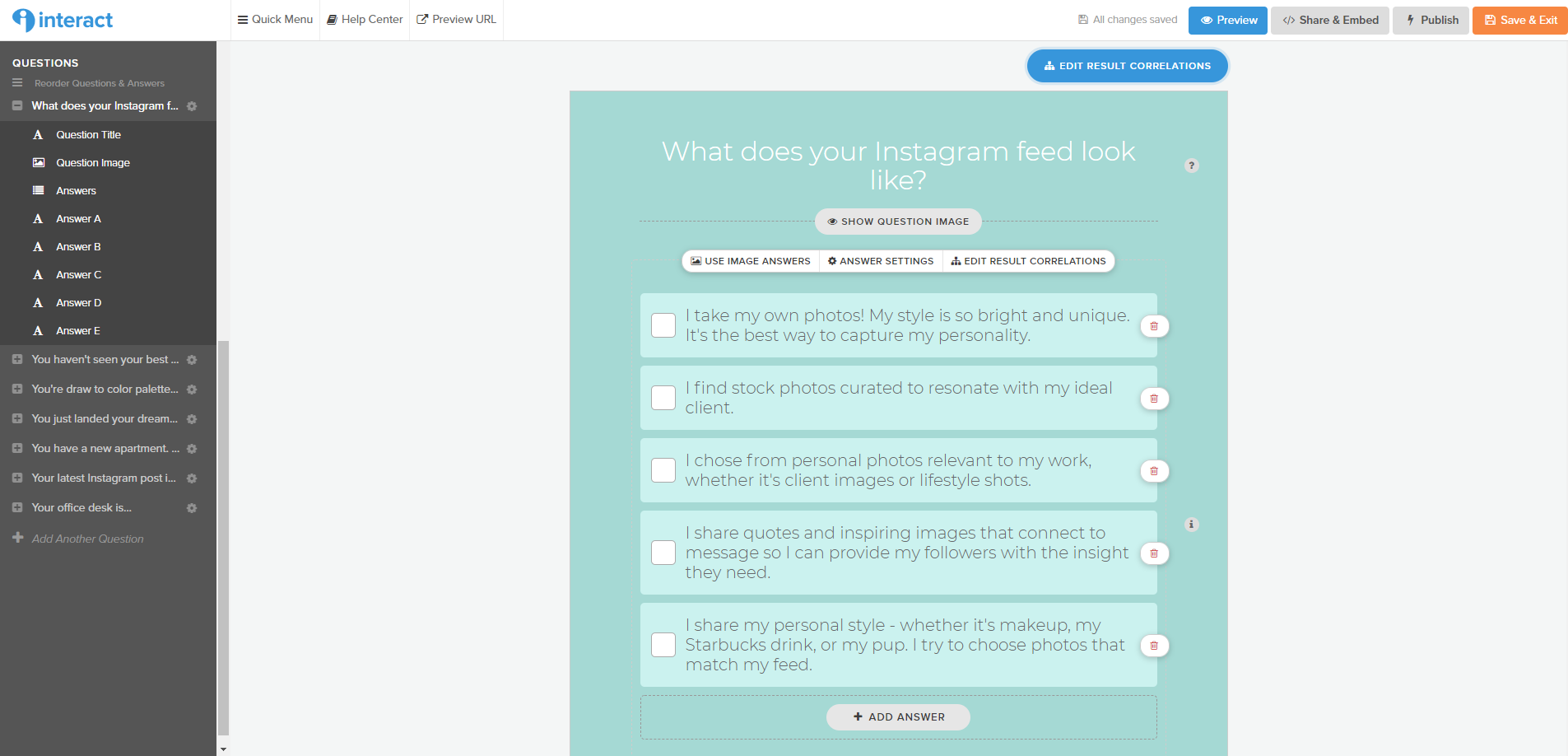 Use your template as an example and get to the drawing board. I grabbed my favorite oversized sketchpad and I started with a brain dump. I took a look at the internal process that helps me to recognize and identify my clients brand style. I thought of external indications, like fashion choice and home decor. I also considered personality traits: Are you laid back? Organized? Rebellious? Finally, I took a look at key brand elements like colors and photo selections. I used all of these notes to start drafting questions.
Along the way, I was faced with a challenge: How could I ensure accuracy? I drew on my professional experience to identify five distinct brand styles. Before I could narrow it down, I started on Instagram. I browsed through dozens (maybe hundreds) of profiles to classify a few categories of styles in my notes. Once I established my brand styles, I selected three influencers to act as archetype examples for each category. Anytime I drafted a question, I wrote a potential answer for each brand style type. To help ensure accuracy, I took a look at the influencer archetypes associated with each brand style and and I asked myself if they might chose the answer I wrote. If it was unanimous, the answer was finalized. If it was questionable, the answer was reworked. Hopefully, this helps to provide a bit of insight into how you might strategize your own approach! If you need help creating questions, Interact offers some awesome resources. HERE is a list of 50-questions to help you get started.

3. Customize Your Quiz
Now that the hard part is over, it's time to have some fun! Interact offers options to customize your quiz. Simply click "styles" to start customizing! Implement your brand colors in the hex code fields. You can even animate your selections, upload your logo, and change typefaces with the help of my favorite free font provider, Google Fonts. I can't wait to see what options Interact chooses to develop in the future!
I was happy with my own tweaks, but I really wanted my quiz to "be one" with my website. So, I found a clever way to embed the quiz on my website.

4. Embed Your Quiz
Embedding an Interact quiz on my Squarespace website was easy! I simply clicked "Share & Embed" before following the step-by-step prompts. All I had to do was copy and paste the code provided into my Squarespace codeblock. It was simple. Interact also offers a great tutorial to help you embed your own quiz HERE. After embedding, I decided to customize my cover page, but I didn't know how to get started. Should I edit the code? Use the customization tools? Fortunately, Interact's amazing customer support team offered me the opportunity to schedule a call and address any outstanding questions or concerns I still had. After considering the insight they offered, I decided to turn off the cover page of my quiz in favor of creating my own!
So, I made a Squarespace page with a Call to Action button leading users to the question portion of my quiz. It looks fancy, but it was an easy fix! I even took to Canva to create custom icons for each brand style type. Above is the final result.

5. Integrate your Quiz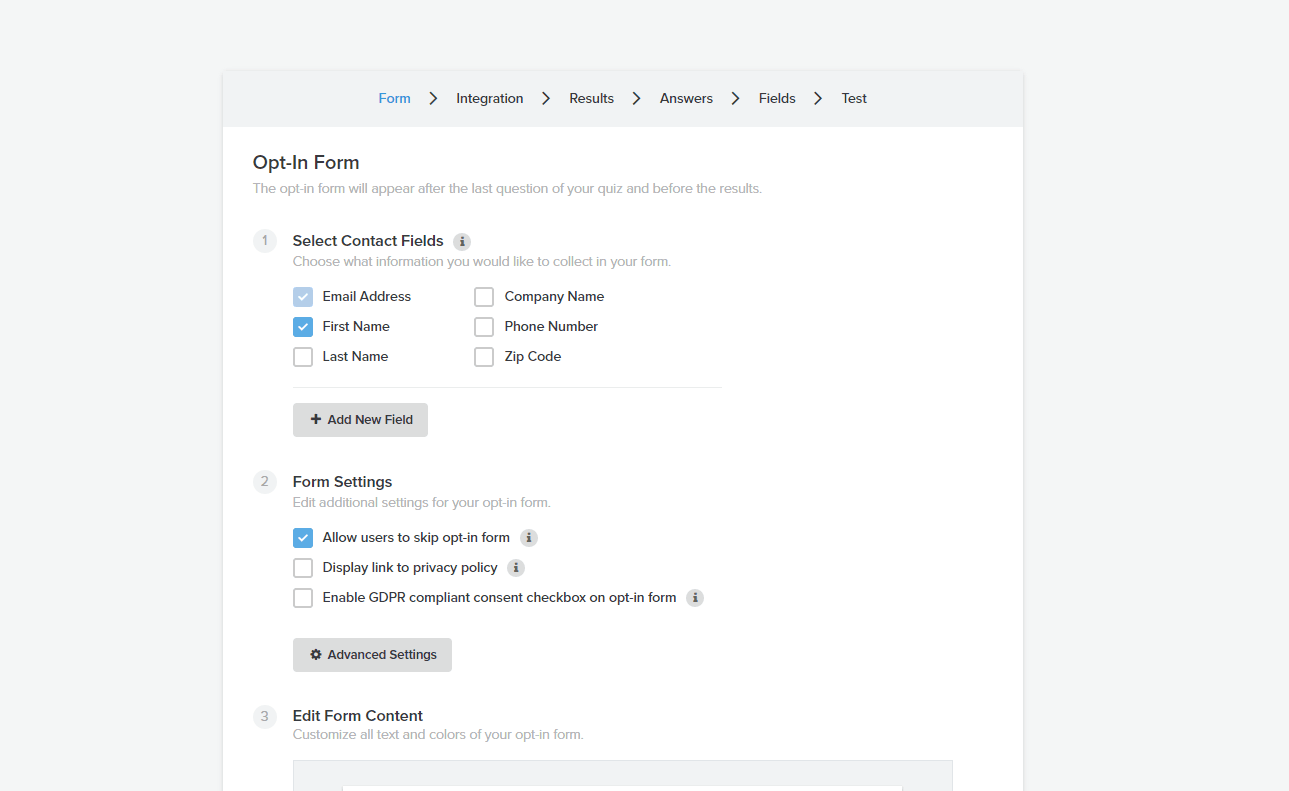 Integrating your quiz is an easy, step-by-step process! Click into the "Integration" option and follow the step-by-step prompts, as seen above. I use MailerLite to connect my quiz to my email list. Interact provides a tutorial, depending on your email marketing software of choice! Once I connected Interact and MailerLite, I created an email filled with resources and takeaways for each brand style type (aka, the result). Interact tags each quiz taker with a result tag matching their brand style type. So, anytime a quiz taker is added to my email list, I use MailerLite to trigger a email all about their brand style type followed by a brief welcome email letting them know what they can expect from me. I'm always tempted to overthink things, but integrating my quiz was seriously that easy!
I'm so happy I found Try Interact Quiz Builder! I thought creating a quiz would be a serious undertaking. I couldn't believe it was actually this easy. I hope this tutorial helped you learn how to create a quiz of your own! Be sure to share a link to yours below, I'd love to check it out. Tag me on Instagram or send me a DM at @kisscreativeco!

Resources