Amber and I met over a heaping bowl of gluten-free pasta salad at a friendly cookout one fateful summer night almost two years ago. We spent the night exchanging stories of parallel health journeys and bonding over a mutual love of pin-up and redheads. We clicked over a passion for business, entrepreneurship, and personal development. After that night, she became my client. Since then, she's also become my cheerleader, my closest confident, and one of my very best friends.
Amber's smart, she's passionate, and she's ambitious. Her company, Strike, mirrors those very characteristics. She presented a clear vision for her brand from the very beginning. That passion and dedication was apparent every step of the way. Amber had a hands-on approach to branding for Strike, and she was articulate and involved in every step of our design process. Her future is bright, and this is only the beginning! I'm so proud to come alongside her in this journey, and I'm very excited to present the debut of Strike.


The Final Mood Board
From the very beginning, Amber had a vision for visual branding that's striking, straight-forward, and gender neutral. Long term, she envisions growth through service to extraordinary singles and committed couples through every stage of life – from dating, to long-term relationships, to engagement, marriage, and starting a family. Before she can expand her marketing scope, Amber is focusing on high-performance individuals pursuing love and establishing long-term relationships.
Together, we collaborated to curate her mood board. Amber was drawn to condensed typefaces and a bold black and white color palette. Red quickly became her only go-to accent color. However, given the goal of gender neutrality, Amber expressed a total lack of interest in cursive and script fonts. Despite this, my inspiration brought be in a different direction. The action Strike inspires is well represented by the sloping swiftness a script font possess. I had to include a few options to demonstrate this possibility, and much to her own surprise, the design won her over. After she saw the concept, Amber understood.


The Logo Concepts
Amber felt that many of the designs above closely resembled restaurant or retail logos. In the end, choosing a script font helped to balance masculine and feminine influence, distinguishing Strike in a league of its own. You can find the script font Amber fell in love with in her final logos below.


The Final Logos
As we continued to work together, I learned more about the finely tuned details of Amber's overarching vision. I learned that Strike isn't a brand emphasizing heat in the bedroom. Naturally, that's only small part of the results that Amber helps her clients to achieve. Strike is a brand that represents igniting the metaphorical spark – lost, dormant, or completely new – between two people. It's about love, relationships, and real life. It's not a service exclusive to struggle. It's not strictly relationship rehabilitation. Strike is also a place where high-performing individuals can go to optimize their relationships and strike balance in their personal lives, even while chasing their most ambitious goals. After we gained the momentum of mutual understanding, things moved pretty quickly.
The creative decisions that followed were swift and easy. Strikes bold, ultra-condensed font "Oswald" practically found us. The color palette just clicked. Even the patterns I created were easily conceptualized with inspiration from Amber's love of pin-up.



The Final Brand Identity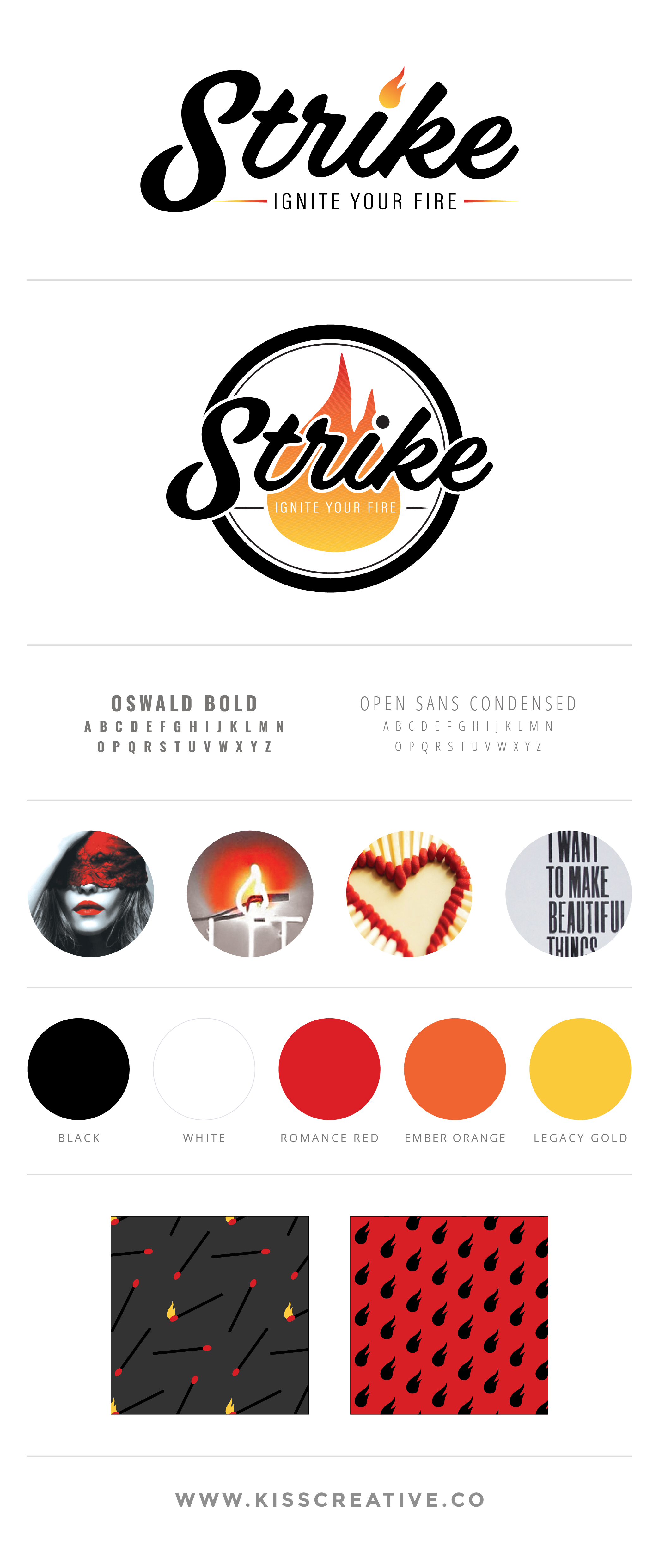 Strike breaks the mold here at Kiss Creative. I'm so proud of the work we accomplished together. This is only the beginning for Amber! If any of the above resonated with you, make sure you click the links below to follow Strike and show your support.
If you're a fan of the work I've created and you're ready to take inspired action in your business, click the link below to schedule a free 15-minute Discovery Call to explore your branding options!
Resources